Ladurée: decoration and inspiration
For years we have been combining a plethora of styles with our characteristic art and ardour, two essential parts of the Ladurée lifestyle. Each of our interiors is an adventure onto itself. The architects of the Ladurée style are meticulous in their work and impressive in their range, as at ease in the 18th century as in antiquity or the times of Napoleon III. They are passionate about everything they build, paint, sew, and upholster, and each unique object they create is conceived of as a dream of sorts. 
At Ladurée, food is seen as the weaver of dreams, so our interiors couldn't be anything less than spectacular. Pompoms, braiding, gilt, moulding, silk, marble, crystal, and many other noble materials and sumptuous trimmings form part of our aesthetic, each synonymous with beauty, comfort, and above all, delicacy. 
Each moment spent in one of our tearooms should be the perfect balance of visual and gustatory pleasure – what we at Ladurée call "the taste of times gone by". Our (all female) influences include Madame de Pompadour, Eugénie de Montijo and Madeleine Castaing, three incredible women whose inimitable style has consistently inspired us at Ladurée. These women represent a breath of creativity, and for many years they decorated our spaces with a timeless elegance far removed from the passing fads of contemporary fashion.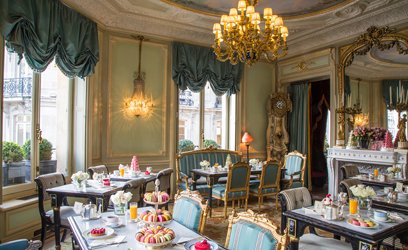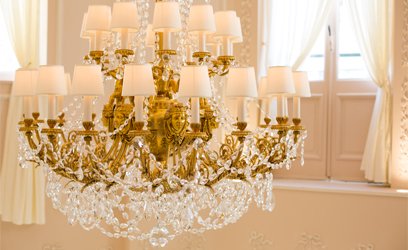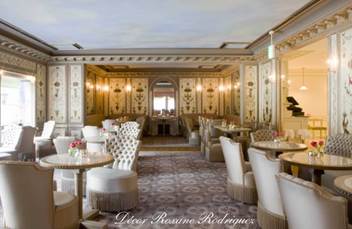 The emblematic colors of Ladurée
GREEN
Green was the original shade chosen for the walls of the first salon on the rue Royale, founded in 1862. This basic colour, in its many variations, has symbolized Ladurée ever since, like the cherub – a pastry chef – above the entrance to the salon. Yet initially it was white that dominated the shop-front and the interior décor. Even the pastries had a milky look and were sold in snow-white boxes. The idea then was to be subtly conspicuous, and the shop's name was painted in Gothic lettering. Once an almost military shade of khaki, the Ladurée green is softer today, watered down a little. It is more sophisticated, and at the same time more feminine. Green is not a very common colour in cakes and pastries, although pistachio, basil, and lime are all exceptions to the rule. Yet it is the dominant hue of a basket of tropical fruit whose heady scents remind us of summer, a sea breeze, and sun-warmed bougainvillea on trellised walls. It is the colour of Granny Smith apples, young grass, spring leaves. It is the colour of nature, femininity, sweetness, and hope.
PINK 
A natural choice at Ladurée, the rose is the flower of passion, of timeless longing, of eternal youth. Rosewater perfumes the kitchens of Ladurée and flavours its best-loved products. Sweets tasting of rosewater speak to us of love, St. Valentine's Day, Mother's Day. This legendary blossom with its mysterious oriental origins and inherent virtues makes us think first of the powdery sweetness of Turkish delight brought back from a journey to Istanbul. But the rose's taste changes completely when its petals are transformed by human artifice. Enriched with a drop of juice from its blushing sister the raspberry to add a touch of tartness, the rose appears in an astonishing range of guises: the macaroon, the Saint Honoré (indeed, the rose-flavoured one is the best-selling version), the religieuse, the marshmallow, rose-petal jam, rosewater jelly, and even an enticing rose-flavoured chocolate.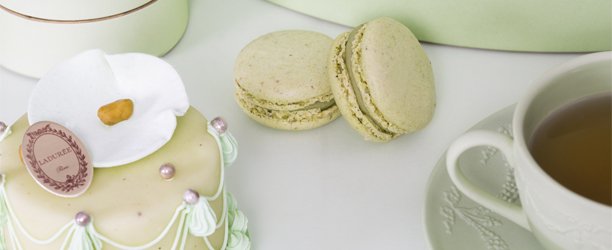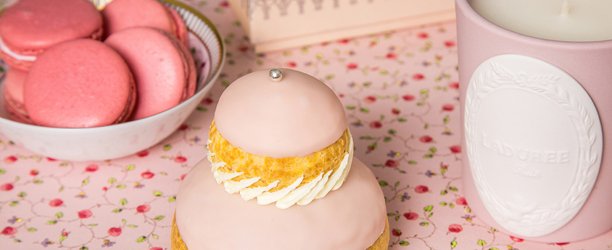 BLACK & WHITE 
Subtle and luminous, untouched by the hand of time, ivory is the colour of half-tones, quivering dawns, mother-of-pearl memories. It's the colour of almond paste, white sugar icing, whipped cream, orange blossom and vanilla. 
The exact opposite of white is black. Black clouds may trouble the clarity of milk-white skies, but the dark delights fashioned in the kitchens of Ladurée are the best antidote to melancholy thoughts and unhappy memories. 'Black is the absolute non- colour,' Andrieu goes on, 'and we use it in patisserie to create the most wonderful contrasts.' It's the colour of Italian squid-ink pasta, Liquorice Allsorts, chocolate. 
And now it's the dominant hue of the new Ladurée salon in London, at Harrods. There, black defines a world of fairy-tale mirrors, upholstered sofas, walls hung with brocade, chandeliers reflected on the skin of caryatids clothed in silver leaf.
VIOLETS: GOOD ENOUGH TO EAT
At Ladurée, the violet is an ode to femininity, evoking the perfumes of the boudoir or the dressing-table of the bedchamber. It pays homage to Madame de Pompadour, Stendhal's Romantic heroines, and face-powder by Caron. It is fragrance and flavour at once. 
Yet the violet with its heady scent is a very simple flower, though one that is pretty enough to eat. 
And eaten it is: it has been adopted by confectioners and lends its flavour to cakes, sweets, even cocktails.